Pioneering Nissan Driverless Cars Enter the Testing Phase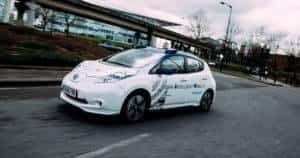 The world has been anxiously awaiting the arrival of autonomous driving technology in the mainstream, and Nissan has emerged as one of the major innovators in this field. In fact, Nissan driverless cars have now been spotted in Europe for real world testing. Just how do Nissan driverless cars navigate the roads autonomously? Take a look at the latest buzz about this exciting technology!
Driverless Car Testing
While Nissan driverless cars have hit the roads of Europe, previous testing has been conducted on public roads of Japan and the United States. Nissan selected these testing locations to assess performance in urban and rural roads around the world. This process simulates real world driving scenarios, so engineers can fine-tune the mechanics to perfection. During the testing procedure, passengers were able to assess the ride quality while getting a sneak peek of the cars' new technology.
Nissan Intelligent Mobility
Nissan driverless cars are just one part of a larger project, dubbed Nissan Intelligent Mobility. This plan seeks to create safer and cleaner driving practices with minimal impact on the environment. Nissan Intelligent Mobility has already resulted in cutting-edge advances, like the Intelligent Lane Intervention system and the Around-View Monitor. But, Nissan plans to take this groundbreaking engineering into the future with the autonomous ProPILOT technology. The company has also pioneered Nissan Intelligent Power, a plan to create zero-emissions mobility options, and Intelligent Integration, which seeks to improve the driving infrastructure.
Future of Autonomous Driving
Autonomous driving technology is currently in the early stages, but automakers have big plans in store for this technology. The Nissan Qashqai and LEAF are already expected to receive ProPILOT technology, and Japan's award-winning Nissan Serena will also receive this system. Though autonomous driving is currently in the testing phase for single-lane roads, testing for multi-lane driving is already in the works for 2018 and city driving testing will roll out in 2020.
Learn More About Nissan Innovation
As we stay tuned for more information about Nissan driverless cars, Tamaroff Nissan invites Michigan drivers to stop by our dealership to learn more about Nissan technology. Our sales staff can find you the perfect vehicle within our extensive inventory. Contact us online for all the details!